Juice Plus+ Capsules
Omega Blend
A plant-based omega blend to support your vision, brain and heart.*
The Omega Blend is a plant-based, full-spectrum blend of omega fatty acids, complete with omega-3, 5, 6, 7 and 9. Sourced from algae and plants — such as pomegranate seeds, sea buckthorn berries, raspberry seeds, tomato seeds, and safflower seeds — it's an ocean-friendly alternative to fish oil capsules, plus there's no fishy aftertaste!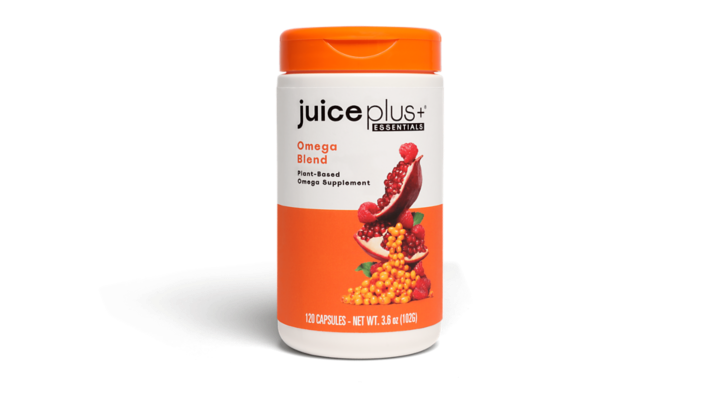 DHA contributes to maintenance of normal brain function.

DHA contributes to the maintenance of normal vision.

EPA and DHA in Omega Blend contributes to maintenance of normal heart function.
---
Eating Well and Balanced
It all begins with a plant-based diet rich in whole grains, fruits and vegetables, plus certain foods that deliver a high amount of specific nutrients – like Omega-3 fatty acids, which typically comes from oily fish. 

Plant-based Omega Fatty Acids

Our philosophy includes sourcing the best nutrition from fruits, vegetables and seeds.

Omega-3's: Oily fish are often considered the best source of the omega-3 fatty acids EPA and DHA. These fish provide so much omega-3 because they mainly feed on algae. This is why we "skipped the middle fish" and went straight to algae, the true source of omega-3 fatty acids EPA and DHA, for our capsules. 
Omegas 3, 5, 6, 7 and 9: We've rounded out our blend with additional omega fatty acids from sources such as pomegranate seeds, sea buckthorn berries, raspberry seeds, tomato seeds and safflower seeds. These plant ingredients provide other fatty acids such as omegas 5, 6, 7 and 9, as well as other omega-3 fatty acids such as ALA.
What makes our Omega Blend different?
Most omega products contain a single omega ingredient, usually omega-3 and usually from fish oil.  Juice Plus+ Omega Blend is a blend of 5 omega fatty acids, all from plants.
Most omega products come in softgel form, which requires heat and oxygen to fill and seal.  Heat and oxygen actually cause oils to start degrading.  Our vegan capsule shell is sealed without heat, protecting the oils inside.  And that bubble you see in each Omega Blend capsule?  That's nitrogen, which replaces the oxygen, protecting the oils from degradation again.
So, by harvesting omegas from the original algae source, cold-pressing oils from berries and seeds to maintain purity, and placing them inside a capsule made from plants, eliminating heat and oxygen along the way, we are able to bring you a symphony of omega fatty acids in a clean, vegan, eco-friendly way.
Product Overview
Plant-based
Vegan
Whole food based 
Clinically tested
Gluten-free
Dairy-free
Certified non-GMO
Certified for quality and safety by NSF
Certified Kosher 
*These statements have not been evaluated by the FDA. This product is not intended to diagnose, treat, cure or prevent any disease.

Directions:
Take two capsules every day with a meal and a glass of water.